The Park View UNC "Friends of Park View Park" Commit
tee was pleased to be able to serve the Park View Hurricanes, a football team run by the Park View Recreation Center. The Grant was sponsored by USA Football, a charitable program affiliated with the NFL.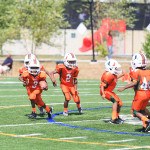 With the funds the football team, coach Craig Hughes successfully purchased 6 step over bags and 15 chin straps. We are very thankful for USA Football's generous contribution, and the children were very pleased with their new supplies!